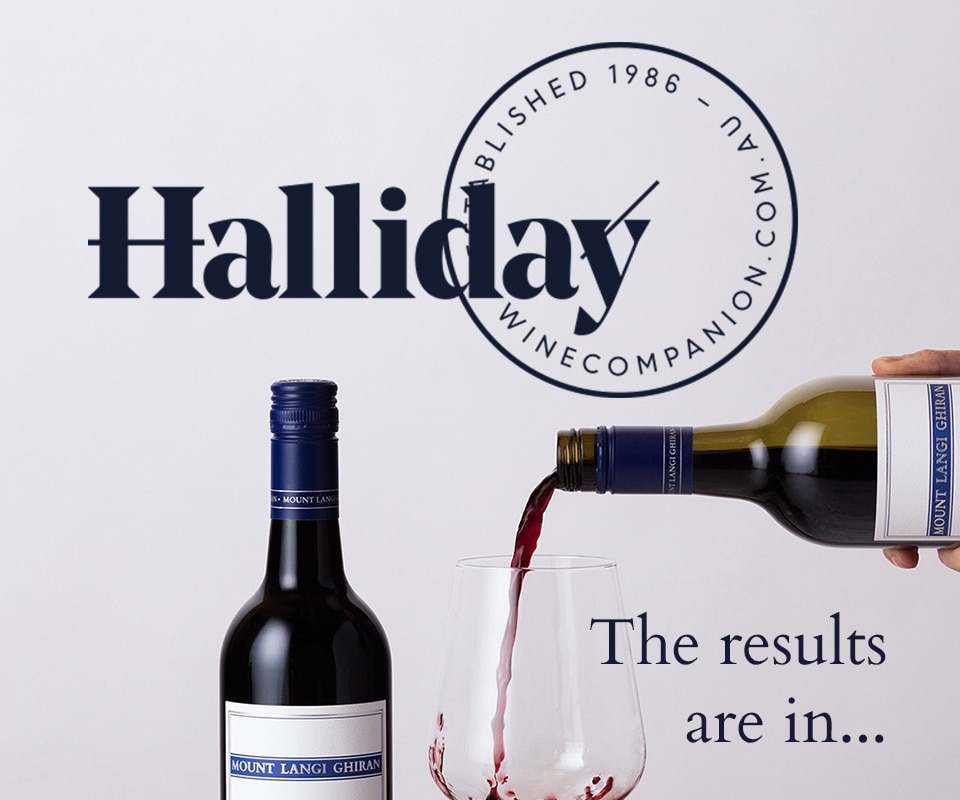 We are thrilled to share our 2023 Halliday Wine Companion results with you. We were again awarded a 5 Red Star winery rating along with incredible scores by Jeni Port. Congratulations to our dedicated winemaking and viticulture team Adam Louder, Liz Ladhams, Damien Sheehan and Darren Rathbone.
2020 Cliff Edge Shiraz – 96 Points
Whole-berry wild fermentation in concrete, both small open-topped and large closed fermenters. Left 14 days on skins, matured 14 months in French barriques (30% new). Often cited as a benchmark cool-climate shiraz, there's no denying this is yet another impressive, elegant shiraz from a strong vintage. Boasts refined richness and a depth of flavour that is well-matched to a vivacious personality. Fruit is the star, with flecks of pepper and spice assisted by plump tannins. That's a WOW!
NOT YET RELEASED – SHOP 2019
2020 Cliff Edge Cabernet Merlot– 95 Points
Whole berries, wild fermented in small open-top fermenters, left 2-3 weeks on skins, matured 18 months in French barriques (30% new). A wine guaranteed to make you smile, highlighting the beauty of Grampians cabernet with a little help from some friendly merlot. Deeply coloured and concentrated in the glass, it launches into a beautifully balanced display of plum, mulberry and cassis, all ripe and warmly spiced with a hint of leafiness. Nicely measured tannins to the finish.
NOT YET RELEASED – SHOP 2019
2020 Cliff Edge Grenache– 92 Points
Destemmed fruit, whole-berry fermented, matured in used French barriques. Super-juicy and vibrant in colour and taste, the winemaker has given due respect to the young vines (4yo) and delivered a fruit-fuelled little ripper. Generous red cherries, plums, anise and pepper explode across the palate. Tannins are soft and supple. Bravo!
NOT YET RELEASED
2021 Billi Billi Pinot Gris– 91 Points
Fermented cool in stainless steel. Love the delicacy on display here, the gentle honeysuckle notes, cut pear, honeydew melon and lightly spiced apple. Racy acidity is softened just a little with a splash of sweetness. Works well.
2021 Cliff Edge Riesling– 91 Points
Whole-bunch pressed to tank and fermented cool. With 9g/L total acidity, you can't miss the assertive nature of this young riesling. It's probably not an early-drinking option for many, so consider some down time before opening. The delicacy of the fruit just being released now, white flowers, jasmine, grapefruit, lime zest and apple, will develop nicely.
NOT YET RELEASED