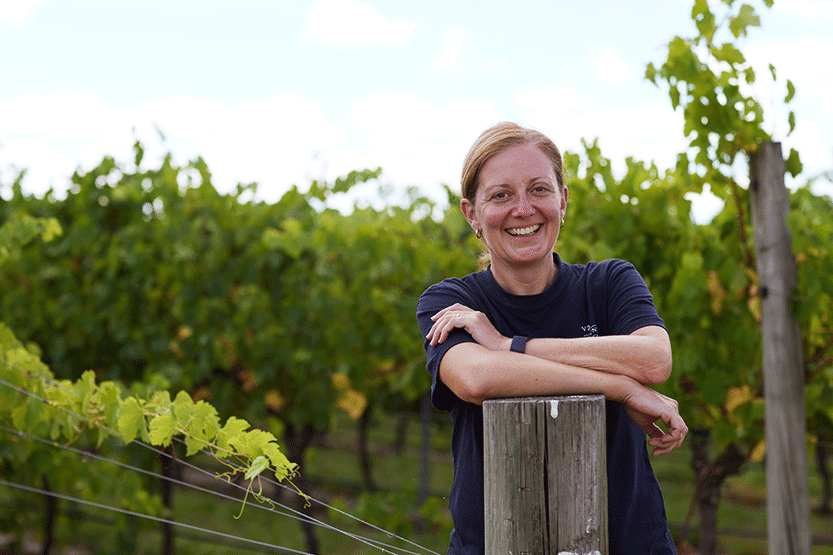 We recently sat down with Adams's right-hand woman, our Winemaker, Liz Ladhams. Forming part of our Q&A series, Liz certainly has an impressive career history, prior to falling into the wine industry, one that's worth the read…!
Where are you from and how did you start off your career (pre winemaking)?
I'm originally a Queenslander, born on the Darling Downs… where, while there's vines up there these days, when I was growing up, the idea of working in wine wouldn't have occurred to me in my wildest dreams. Upon leaving school, the world of Economics and International Relations seemed to be my calling and with that, I found myself in London where I stayed for the best part of a decade. While in the UK I worked for both JP Morgan and Morgan Stanley – I rode the roller coaster of the Millennium Bug, the DotCom bubble (bursting), 9/11 and the London bombings. I learnt a lot about resilience and adaptability during those years.
Returning to Australia in 2007 brought me to Melbourne, also with Morgan Stanley. Markets were at an all-time high… but the laws of gravity apply to markets just like anything else – what goes up, must come down… enter the GFC? Banks were very much out of favour but again, resilience, adaptability, and a healthy dose of creativity helped me see out those difficult times. And without the tough times, I doubt I would have appreciated the good times quite as much as I did. My job took me to New York, Hong Kong, Singapore and beyond. I was very privileged to be able to explore the world with my work.
What drove you to move into winemaking/viticulture?
It was living the in UK and spending weekends and holidays in Europe where my interest in wine developed. Bordeaux was a favourite weekend escape and the journey has continued from there! While I had a ball and learnt a lot during my 20 years in banking, there was always an inkling that "making something" was what my soul needed.
Good food and good wine are passions and what greater pleasure than turning a passion into a career. And the journey hasn't disappointed. In addition to pursuing a passion, the other great joy winemaking gives me is being so completely aligned with the changing of the seasons – these days my year is measured by the life cycle of the vines (and no longer the posting of quarterly results).
What is it like to work alongside Adam Louder? What have you learnt?
Adam is a phenomenally talented and instinctive winemaker. He would never tell you that… in fact, he doesn't say a lot in general! But observing and working alongside Adam as he goes about the business of making outstanding wine, provides an education you won't find in any text book.
The number one lesson from Adam is to trust my instinct. If it doesn't feel right, change it. If it does feel right – don't question it, go for it!
Which are your two favourite wines you have made with Adam?
Putting together the first Talus Cabernet out of the 2019 vintage was sublime. It's the first straight premium Cabernet bottled off the property for more than a decade. It's in this wine Adam's experience in both Bordeaux and Napa and working with top-shelf Cabernet shines through – and it literally left me speechless.
I'll also always have a soft spot for the 2019 Langi Shiraz – not only is it an exceptional wine, I worked that vintage as a cellar hand, foot-stomping, plunging and pumping over the ferments three times a day. Having the opportunity to be able to then put the wine together as a winemaker, under Adam's watchful eye and guidance, was an honour I wouldn't have expected when I was knee deep in a ferment in 2019!
What makes MLG special to you?
Anyone who has visited MLG knows it's a spectacular location, but it's the material we get to work with, the fruit produced from the vines, in the soil, in the shadow of Mount Langi Ghiran that you can't find anywhere else in Australia. It is a privilege just to be able to walk through the Old Block, let alone being allowed to make some of Australia's best Shiraz from those 50-year-old vines – is there anything more special?
What excites you about the Australian wine industry?
I believe we're in one of the best countries in the world to make wine. We have ready access to world-class resources and research, and the flexibility to be able to pursue the path that we believe is right for our site and region. Climate change has had devastating effects on the country, but with that, also opportunity. And to hark back to the resilience and adaptability I learnt during my previous career, we're witnessing plenty of that in the Australian wine industry right now. The smoke-taint research that came out as a result of the 2020 fires has led the world. We're also seeing some exceptional wines being made from "non-traditional" grape varieties originally from Southern Italy, Portugal and Spain that are more heat and drought tolerant. In Australia we have a culture of constantly learning, adapting to each season's new challenges, and we're supported and advised by industry bodies – that's an exciting place to be.